Directions:
Add or edit text & images. Click below the name of the page section to add or edit its contents. It's easy.
Welcome to Philadelphia CHADD, your local resource for support and information on parenting children with ADHD. Join parents and caregivers just like you to learn parent strategies for your child with ADHD. Experts from area hospitals, medical practices, and educational centers will deliver the lastest information about ADHD treatment, advocacy, and management strategies. Most importantly, we will support each other as we navigate ADHD.
Our CHADD Affilliate meets every third Thursday of the month October to June.
Meetings are usually held at 6 p.m. at CHOP Karabots Center, 4865 Market Street in West Philadelphia in Conference Room A. Free parking will be available.
Our theme for the current programming year 2019-2020 is:
Navigating beyond the diagnosis: Providing the tools to empower children and adolescents to manage their ADHD
Save these dates for the rest of year!
Join us for our first Zoom meeting ever!
May 21, 2020
(Continue to watch this webpage for updates!
Want to join CHADD, but can't afford to? LAST CHANCE!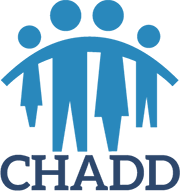 Local Volunteer Opportunities
We are always looking for volunteers to help with communications, outreach, and a host of other things.
Do you have technical skills? We need support with managing this webpage, managing Zoom while we are social distancing and wondering if anyone has skills in setting up Zelle, Paypal, Venmo or other way for people to donate to our group?
Please email Philadelphia-CHADD@chadd.net if you are interested in volunteering or joining our mailing list.
CHADD AFFILIATE: Philadelphia CHADD
CHADD Local Support Groups and Affiliates Need Your Support
CHADD has local support groups in every state in the United States. Each group offers programming or information specific to their geographic area. These groups offer assistance for parents, children, young adults, adults and other stakeholders (psychologists, teachers, doctors, etc.). These groups provide advocacy, support, networking and information to those affected by AD/HD in their communities.
Ways you can support these efforts are as follows:
Donate to this effort

Contact your local CHADD group to advocate for support groups

Contact your school district to host and support newly forming or current groups

Contact your local community foundation or other foundations in your area to support this effort
For questions on these, or any options to support CHADD please visit our web site at https://chadd.org or contact the CHADD National office at (301) 306-7070.