Directions:
Add or edit text & images. Click below the name of the page section to add or edit its contents. It's easy.
Welcome to Kitsap CHADD! Find support and get your questions answered.
Support and Information for Parents, ADHD Adults, Educators and Health Care Professionals
WHEN: Second Tuesday of each month from 7:00- 8:30 PM
WHERE: Via Zoom
Directions: Please email Lynn at the attached email if you would like to join us. I will email you the ZOOM meeting code and the password. Hope you will!
View/Print/Download the schedule
Helpful Info:
A lending library

Free informational materials

Snacks and beverages provided

NO CHARGE

NO pre-sign-up needed
Extra Stuff:
Nationally, CHADD offers support and information for Parents, AD/HD Adults, Educators, and Health Care Professionals. For further information, please call Lynn Myrvang at 360-779-5362 or Kerry Miller at 360-697-3922.

We ask parents to invite their children's teachers, school nurses, counselors, and psychologists to our meetings and to let them know that we offer clock hours at a very reasonable fee.

Kitsap CHADD will never sell or rent your email address. Your email address is collected only for member communication and data reporting to CHADD, our parent organization. CHADD does not sell or distribute your email address for commercial marketing purposes

NOTE - CHADD does not endorse or represent products, services, publication, medications or treatments. Meetings are free and open to the public, although membership with CHADD is strongly encouraged, since your local group will receive a portion of your dues to continue supporting your community
We look forward to seeing you!
Lynn Myrvang, Volunteer Coordinator

QUESTIONS: Lynn 360.779.5362, email – myrvang@comcast.net or Kerry 360-697-3922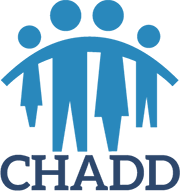 Local Volunteer Opportunities
If you would like to just find out about volunteering with this group, please send us an e-mail at myrvang@comcast.net. You are not making a commitment. Just asking for more info. No prior experience is needed. We are looking for caring individuals.


CHADD AFFILIATE: Kitsap County CHADD
CHADD Local Support Groups and Affiliates Need Your Support
CHADD has local support groups in every state in the United States. Each group offers programming or information specific to their geographic area. These groups offer assistance for parents, children, young adults, adults and other stakeholders (psychologists, teachers, doctors, etc.). These groups provide advocacy, support, networking and information to those affected by AD/HD in their communities.
Ways you can support these efforts are as follows:
Donate to this effort

Contact your local CHADD group to advocate for support groups

Contact your school district to host and support newly forming or current groups

Contact your local community foundation or other foundations in your area to support this effort
For questions on these, or any options to support CHADD please visit our web site at https://chadd.org or contact the CHADD National office at (301) 306-7070.