WELCOME TO BERGEN COUNTY CHADD
We have gone VIRTUAL!!!
We continue to meet virtually, the first Monday of most months (check schedule) 8:00 - 9:15 pm EST, with a speaker for an Educational Meeting. See upcoming meeting topics and dates below.
We also continue to meet virtually the Third Monday of each month, 7:30 - 8:30 pm for our Support Group Meetings. See details below.
Fall 2020 Speaker Series MONDAYS 8:00 - 9:15 pm (EST)
If you missed our past speakers we have either the recording or slides in LINKS. Click it to access these resources.
November 2nd POSITIVE PARENT-CHILD RELATIONSHIPS: BUILDING RESILIENCE AND SELF-WORTH IN CHILDREN WITH ADHD with DR. MATTHEW ZUCH, MA, PhD, licensed Clinical Psychologist: former Clincial Director of the NYU Child Study Center, Director of the Social Skills Groups at Fairleigh Dickenson Univ. and Adjunct Professor oin the School Psychology at FDU.
December 7th RELATIONSHIPS: BRINGING COLLABORATIVE AND PROACTIVE SOLUTIONS TO ADHD RELATIONSHIPS, with COCO STANBACK, Certified ADHD Coach and certified Provider of Dr. Ross Greene's Collaborative and Proactive Solutions. Parent coach and developer Heart4KidsCoaching for 10+ years. Mother of 2 boys with ADHD.
January 4, 2021 To be announced
February 1, 2021 To be announced
March 1, 2021 (tentative titles) PROCRASTINATION: EXPERT GUIDE TO GETTING STUFF DONE or ORDER OUT OF CHAOS, with LESLIE JOSEL, academic/life coach for teens and college students with ADHD, founder of Order Out of Chaos, creator of Academic Planner: A Tool for Time Management, author, How to Do it Now Because It's Not Going Away: An Expert Guide to Getting Stuff Done and international speaker and educator.
To register for any of the above meetings and get the Zoom link, contact:
Ellen at to be added to our mailing list. You will then receive an announcement and link through Mailerlite.
Next Virtual Support Group Meetings
Virtual Support Group Meetings are the 3rd Monday of each month
Monday October 19, 2020 7:30 - 8:30 pm EST
Monday November 16, 2020 7:30 - 8:30 pm EST
Monday December 21, 2020 7:30 - 8:30 pm EST
Facilitator: Isabel Ebrahimi, ADHD coach
Contact Isabel to get the Zoom link:
RESEARCH STUDY OPPORTUNITY
Does disorganization impede your student's academic progress? NYU offers families Organizational Skills Treatment at no cost
Elementary school students (grades 3-5) are being recruited for a study on organizational skills and brain function at the Child Study Center at NYU Langone Health in Manhattan, New Jersey, and Long Island.
Eligible children must show impairments in organization, time management or planning. The research study includes a brief assessment, two brain MRI scans at NYU in Manhattan, and a behavioral treatment: Organizational Skills Training (OST) adapted for delivery to parents and children over the internet, all provided at no cost.
The treatment takes place after school hours for ~12 weeks during the school year. In a randomized clinical trial, students who had completed OST training demonstrated robust, sustained improvements in their organizational skills, academic performance, and conflicts at home. The current treatment program is delivered over the internet twice a week and is designed to help children meet the organization, time management, and planning demands for virtual, in-person, and hybrid school instruction.
For more information, please email csc.organizedkids@nyulangone.org or call (212)-404-3770.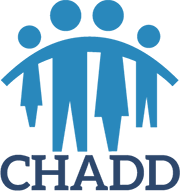 Local Volunteer Opportunities
If you would like to volunteer your talents to this group or have questions, please send an e-mail to our coordinator: Ellen at adhd.bergencounty@gmail.com. We especially need volunteers for electronic communications within CHADD Bergen County and publicity. We welcome suggestions and service from all members of ADHD community.
If you are a professional in the field of ADHD and would like to volunteer to speak at an upcoming meeting, please contact us at one of the above e-mail addresses.
Do you need immediate assistance?
If you are seeking information for a time-sensitive event, like an IEP meeting, please contact CHADD's National Resource Center on AD/HD at 800-233-4050, press 2 (9-5:00 weekdays). You can also go to for additional AD/HD information. You can download or "What We Know" sheets and find answers to "frequently asked questions."
CHADD AFFILIATE: Bergen County CHADD
CHADD Local Support Groups and Affiliates Need Your Support
CHADD has local support groups in every state in the United States. Each group offers programming or information specific to their geographic area. These groups offer assistance for parents, children, young adults, adults and other stakeholders (psychologists, teachers, doctors, etc.). These groups provide advocacy, support, networking and information to those affected by AD/HD in their communities.
Ways you can support these efforts are as follows:
Donate to this effort

Contact your local CHADD group to advocate for support groups

Contact your school district to host and support newly forming or current groups

Contact your local community foundation or other foundations in your area to support this effort
For questions on these, or any options to support CHADD please visit our web site at https://chadd.org or contact the CHADD National office at (301) 306-7070.