Directions:
Add or edit text & images. Click below the name of the page section to add or edit its contents. It's easy.
WELCOME TO OUR SUPPORT GROUP INFORMATION PAGE!

Please read below to find out more about our meetings and programs!

CHADD of Lee County provides information and support for adults, parents with AD/HD children, and educators and other interested professionals.

Thank you for visiting our site for further information about our CHADD group.
When:
Meetings are held on the first Tuesday of each month, 7:00 - 9:00 p.m. (our chapter does not meet during the summer months)
Where: Healthpark Medical Center, Cayo Costa Room, first floor. Healthpark is located on Bass Road off of Summerlin Road, Fort Myers.
Guest speakers provide informational programs, time for questions and answers as well as a time for sharing. An information table is provided. School district inservice credits are available.
Meetings are
free and open to the public
.
View our entire
meeting schedule with dates, times and locations
and a list of other events happening in the area.
For More Information Contact: Lynne Lampila, 239-940-2578; or write: CHADD of Lee County, 14851 David Drive, Ft. Myers, FL 33908 or
c
haddofleecounty@yahoo.com
to obtain a copy of the monthly flyer. You may contact Lynne at the above phone number or at
lflampila@cs.com
.
Meetings are free and open to the public. You do not have to be a CHADD member to attend!
You are not alone! Come learn with us. We look forward to meeting you!!!
**If you are not a CHADD member, or are new to CHADD,
please register your contact information with CHADD
so that we can contact you about local activities. Your privacy is protected and will not be used for any other purpose except to contact you about CHADD programs and activities.
---
Do you need immediate assistance?


As a volunteer, I may not be able to get back to you if you need immediate assistance.


If you are seeking information for something that is time-sensitive (such as an IEP/Section 504 meeting at your child's school), or are looking for a local professional with AD/HD expertise, please contact CHADD's National Resource Center on AD/HD (NRC), online at www.help4adhd.org or by phone toll-free at 800-233-4050 (press option 2, Monday-Friday, 9am-5pm Eastern time).

The NRC is staffed by trained health information professionals who can answer many of your questions about AD/HD and provide other helpful information and resources. (NOTE: the NRC does not provide legal or medical advice, but can offer ideas and suggestions to help you find what you are looking for).

---
CHADD does not endorse or represent products, services, publication, medications or treatments. Meetings are free and open to the public, although membership with CHADD is strongly encouraged, since your local group will receive a portion of your dues to continue supporting your community.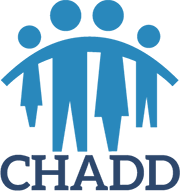 Local Volunteer Opportunities
CHADD AFFILIATE: CHADD of Lee County
CHADD Local Support Groups and Affiliates Need Your Support
CHADD has local support groups in every state in the United States. Each group offers programming or information specific to their geographic area. These groups offer assistance for parents, children, young adults, adults and other stakeholders (psychologists, teachers, doctors, etc.). These groups provide advocacy, support, networking and information to those affected by AD/HD in their communities.
Ways you can support these efforts are as follows:
Donate to this effort

Contact your local CHADD group to advocate for support groups

Contact your school district to host and support newly forming or current groups

Contact your local community foundation or other foundations in your area to support this effort
For questions on these, or any options to support CHADD please visit our web site at https://chadd.org or contact the CHADD National office at (301) 306-7070.