Thank you for your continued support!
Please join our Facebook group at https://www.facebook.com/#!/groups/180753911959591/
Please RSVP for meetings via our Facebook page or email if you plan to attend our meetings so we can plan accordingly. Thank you.
Nicole Vredenburg, LCSW, Co-Coordinator of North Broward CHADD
Nicole Vredenburg has served as the Volunteer Coordinator for the North Broward CHADD group for three years. Prior to this position she served as the chapter's Treasurer. On the CHADD national level, Nicole serves as the Co-Coordinator of the Chapter Advisory Board and Nicole is currently on the Board of Directors.
Nicole has a bachelor's degree in Psychology and a master's degree in Social Work. She is a Licensed Clinical Social Worker with 22 years of experience working with children and adults in school, legal, community mental health, child welfare and private practice settings. She is currently an ESE (Exceptional Students Education) Counselor for the public-school system. Nicole is also a nationally certified Youth Mental Health First Aid Instructor. She has supervised master level MSW and registered clinical social worker interns.
Nicole's interest in ADHD has been sparked by her personal and professional experiences. As a child, she watched her parents serve as champions for her brother who was diagnosed with ADHD. As an adult, Nicole was empowered to seek out a diagnosis and treatment for herself. She is now a mother of two children who are both diagnosed with ADHD.
Christina Sullivan, LCSW, ADHD-CCSP, Co-Coordinator of North Broward CHADD
Christina Sullivan, MSW, LCSW, ADHD-CCSP, has specialized experience working with children with social and developmental delays, including ADHD, autism, Asperger's, and similar conditions and has worked with children with severe emotional and behavioral disorders. She was moved to join this profession by her own son, who was diagnosed with autism at the age of three years old. She has since devoted her entire professional career to helping families affected by autism, ADHD and related conditions.
Ms. Sullivan has served children in schools, hospitals, community mental health and the foster care system who have struggled with mild to severe mental health issues. She worked for Miami-Dade County Public Schools as a District Clinical Social Worker in Autism Programs where she facilitated training and consultation for District staff, school-based professionals and parent support and education groups throughout the county.
Personally, Ms. Sullivan has a Black belt in Tae Kwon Do, is certified as both a child and adult yoga teacher and has mindfulness and yoga therapy training, which she incorporates into her work with those she serves. Ms. Sullivan also has training in Applied Behavioral Analysis and Verbal Behavior.
Ms. Sullivan participated in the development and implementation of a surf camp for kids ages 8-14 and who have autism or other learning differences. She co-created the research-based B.R.I.D.G.E. (Brave, Reliable, Inclusive Doers who Guide by Example) peer mentorship and leadership program for implementation in after-school programs, schools and camps to help students with learning, social and attention differences feel connection and belonging with their neurotypical peers.
As a result of her experiences both as a mother and a professional, she co-founded Evolve Learning Community in central Broward where she is the Clinical Director. Evolve's mission is to provide students a compassionate and supportive learning environment that facilitates belonging and connection while reducing sensory overwhelm and anxiety and seamlessly integrates social emotional learning and executive functioning skills training throughout the learning day. With her unique clinical and parent perspective, she has created a progressive learning space for neurodiverse students seeking a non-traditional educational path.
She leads social skills groups, executive functioning skills groups, and provides individual and family therapy and ADHD/ASD/Executive Functioning skills coaching and consulting in her private practice. She developed and leads a research and evidence based intensive therapeutic skills summer camp for children ages 6-14 who have ADHD, ASD or related conditions. Ms. Sullivan works closely with public and private schools, providing classroom observations, consultations, support and interventions. She has presented on numerous topics, teaches yoga, meditation and mindfulness in the community, co-published articles and provides supervision to master's level and advanced doctoral students at both Evolve Learning Community.
If you have any questions, call Nicole Vredenburg, Volunteer Coordinator,
at 754-229-5716 or send an email @

View our entire meeting schedule with dates, times and locations and a list of other events happening in the area.
Meetings are free and open to the pulic. You do not have to be a CHADD member to attend!!
---
Do you need immediate assistance?
We regret that as volunteers we are unable to answer individual questions. Your best opportunity to learn about this area's resources is to attend our free monthly support group meetings which are held monthly between September and May from 6:30-8:00. As always, please feel free to access the CHADD professional directory for our area https://chadd.org/professional-directory/ and speak with an ADHD Specialist through the CHADD Help Line 1-800-233-405

0.
The NRC is staffed by trained health information professionals who can answer many of your questions about ADHD and provide other helpful information and resources. (NOTE: the NRC does not provide legal or medical advice, but can offer ideas and suggestions to help you find what you are looking for).
---
CHADD does not endorse or represent products, services, publication, medications or treatments. Meetings are free and open to the public, although membership with CHADD is strongly encouraged, since your local group will receive a portion of your dues to continue supporting your community.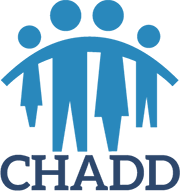 Local Volunteer Opportunities
We are always looking for volunteers to speak at a future meeting, help spread the word about our chapter and/or be a part of our local board.
If you are interested, please send an email to Nicole Vredenburg, Volunteer Coordinator of the CHADD of North Broward chapter, at
CHADD AFFILIATE: CHADD of North Broward
CHADD Local Support Groups and Affiliates Need Your Support
CHADD has local support groups in every state in the United States. Each group offers programming or information specific to their geographic area. These groups offer assistance for parents, children, young adults, adults and other stakeholders (psychologists, teachers, doctors, etc.). These groups provide advocacy, support, networking and information to those affected by AD/HD in their communities.
Ways you can support these efforts are as follows:
Donate to this effort

Contact your local CHADD group to advocate for support groups

Contact your school district to host and support newly forming or current groups

Contact your local community foundation or other foundations in your area to support this effort
For questions on these, or any options to support CHADD please visit our web site at https://chadd.org or contact the CHADD National office at (301) 306-7070.